Hope for Future Generations (HFFG) is a local implementing partner of Simavi for WaterShed – a 5-year project aimed at strengthening the capacity of civil society organisations to make clear demands for improved and integrated sustainable Water Resources Management (WRM) and Water Sanitation and Hygiene (WASH) services at the local level.
A major expected outcome of the project, currently being implemented in the Tarkwa Nsuaem in the Western Region, is to collect relevant and timely data from government authorities to increase social accountability toward citizens. This informs the need to establish and train community advocates who will be empowered to engage stakeholders at all levels and gather evidence on deficits in WASH service delivery and WASH/Integrated WRM issues.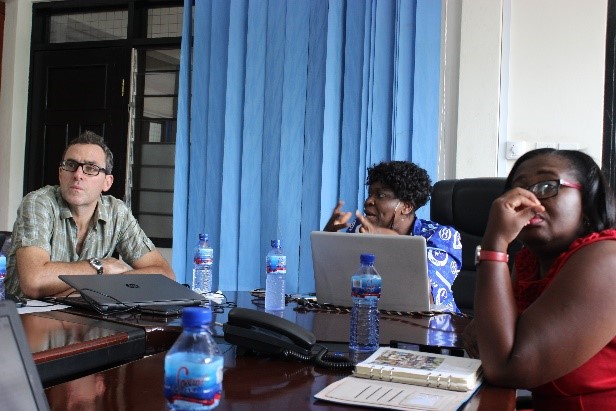 The role of HFFG is to generate data through social accountability. This data is shared with the municipal assembly who will build synergy and support in development of WASH and IWRM plans for the Government's Medium-Term Development Plan. This information will also be stepped up at the national level through the Coalition of NGOs in Water and Sanitation (CONIWAS) and media networks, better informing policy and government budget allocation practices.
The key partner on this project is the government through the Tarkwa Municipal Assembly, Community Water and Sanitation Agency (CWSA) and Environmental Health and Sanitation Directorates.
Based on this partnership and a long-standing relationship between HFFG and Simavi, Timothy Sutton, the Senior WASH Programme Officer of Simavi in the Netherlands, paid a visit to our head office in Accra where the project plan and progress were shared with him by staff of the organisation.