Violence against women and girls is a human rights violation, perpetrated for decades. Though pervasive, it is not inevitable, unless we stay silent.
Violence often goes unchallenged and unsanctioned because it is almost seen as normal or acceptable behaviour in many societies. Men are usually the perpetrators of the act through various forms of assault. A typical example is Gender Based-Violence (GBV) that has been a silent killer across diverse age groups and social statuses.
On 25th November, 2021 Hope For Future Generations (HFFG) in collaboration with John Snow Incorporated (JSI) under USAID Strengthening the care Continuum Project celebrated the International Day for Elimination of Violence Against Women, and used the opportunity to educate queen mothers in Asunafo North Municipal and South District at Kukuom in Asunafo South District.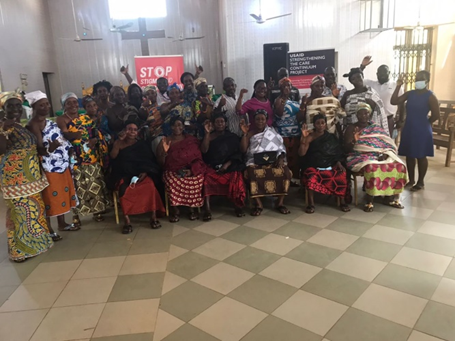 The queen mothers were educated on forms of violence against women, causes, effects and channels of reporting cases of abuse (means of referral or linkage to the appropriate institutions). The team encouraged queen mothers to voice out any form of violence against women and seek support when the need arises. The team successfully sensitized a total of eighteen (18) queen mothers.
The queen mothers expressed their happiness for being included in the workshop and promised to support women to speak out and break the cycle of abuse in their communities.