Hope for Future Generations (HFFG) has engaged the Health Select Committee in Parliament to push for an increase in domestic financing of immunization in Ghana after years of advocating on the subject.
HFFG is an implementing partner on the Immunization Advocacy Initiative (IAI), supported by the African Population Health Research Center (APHRC). During the engagement with the Health Committee of Parliament, the Programs Manager for IAI, Gladys Damalin while presenting a policy brief to the Health Committee revealed that the current budget allocation for immunization is below the minimum 15% allocation recommended by the Abuja Declaration. Thus, Ghana is unable to meet its co-funding obligations to the Global Alliance for Vaccines.
She further mentioned that GAVI, the major immunization financier in Ghana is set to pull out by 2027 and Ghana's inability to prepare for that will cause a tragic dwindle in the progress made under immunization.
The Executive Director of HFFG, Cecilia Senoo entreated the Health Committee at Parliament to add their voices for a progressive change in the budget allocation for immunization. She added that this is important to avoid a future outbreak of vaccine-preventable diseases among children. "It is important that government increases investment in the health sector particularly immunization to protect the lives of our children and to sustain the gains already made", she said.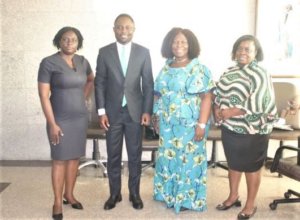 Adding her voice, the Programs Director of HFFG, Nancy Ansah, asserted that HFFG is calling for a concerted approach to put in place plans and resources to prevent the country from experiencing any shock after GAVI's withdrawal from Ghana.
The Vice Chairperson of the Health Committee, Hon. Patrick Boakye-Yiadom in his response made a call for CSO's to advocate for Ghanaians to build an attitude that promotes payment of tax and a general acceptance of policies and initiatives that call for domestic resource mobilization.
The Chairperson, Hon. Nana Ayew Afriyie, remarked that the withdrawal of donors is "frightening" thus, Ghana needs urgent preparations towards that. He continued by saying the committee will work hard to ensure an increase in the budget allocation to immunization in Ghana.
Compiled By:
Emmanuella Kwamee (HFFG)