Positive Language contributes to the reduction of stigma and discrimination against persons with disabilities including mental health conditions.
A one-day workshop was organized for 20 key stakeholders each in the Greater Accra, North-East and Savannah Regions in the month of September, 2021 as part of activities under the Ghana Somubi Dwumadie programme.
The aim of the workshop was to support the development of positive language which could be used to engage the public towards reduction in negative and discriminatory attitudes, behaviours and norms faced by people with disabilities in Ghana, including people with mental health conditions.
Participants included representatives from disability and self-help groups, religious and traditional groups, Social Welfare Department, media, and the Mental Health Authority.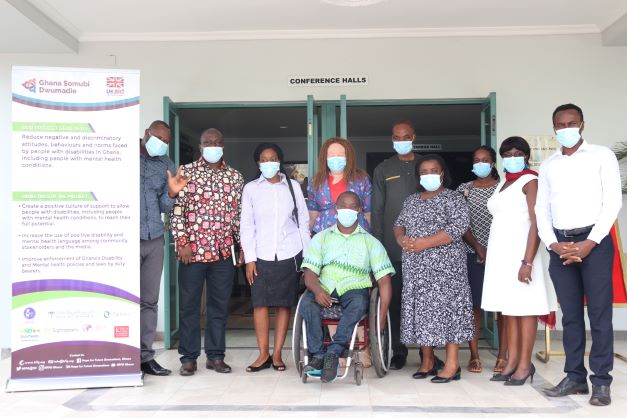 The team's tasks were to identify derogatory and discriminatory words and phrases which were generally used to refer to persons with disabilities including mental health conditions and replace them with alternative words and phrases which were more acceptable and non-discriminatory, and which could be used to sensitize the public.
The teams identified words and phrases like 'Onyԑ heee ŋme' as a derogatory language in Ga for Persons with Albinism which literally means 'Your mother does not need to buy palm nut because you carry it on your head' It also came up during the discussions that Persons with Mental Health Conditions were being referred to by some as 'Sԑkԑyelͻ' meaning 'mad person' and this was derogatory. With the help of stakeholders, positive words were proposed to replace the negative ones and language experts assisted in translating them into the working local languages (Ga, Mamprusi and Gonja).
The beauty of this meeting was that the community members living with disability and mental health conditions were well represented and contributed effectively to the process. They expressed concerns why they are not be referred to by their given names but rather are described by their disability.
The traditional authority representatives, commended HFFG and the Ghana Somubi Dwumadie for such a move and indicated that it was the first time they had been invited to participate in such a meeting.
At the end of the Accra engagement, a participant who was also a Sign Language Interpreter had this remarks to share:
"Well, from my own perspective, I say this is an innovation. Over a decade experience as a Sign Language Interpreter, this is the first Workshop that has focused on issues of doing away with derogatory connotations of Persons with Disabilities".
This initiative is being implemented by Hope for Future Generations and the Psykforum with funding from UKaid through Options Consultancy Services under the Ghana Somubi Dwumadie. It is a three-year project dubbed 'Social Behaviour Change Communication (SBCC) and stigma reduction for mental health and disability inclusion (Ghana Participatory SBC). The project is being implemented in 4 regions: Greater Accra, Central, Savannah and North –East.
Outcomes of the project
A positive culture of support created to allow people with disabilities, including people with mental health conditions, to reach their full potential.
Increased use of positive disability and mental health language in Ghana.
Improved enforcement of Ghana's Disability and Mental Health policies and laws by duty bearers.