It has been 20 years of promoting good health and gender equality through sustainable interventions across all the 16 regions of Ghana with the support of our development partners. For us at HFFG, the improvement in the lives of our diverse beneficiaries; the change in policies at national and global levels through our advocacy works and the continuous recognition bestowed on us both home and abroad are some of the reasons that drive us on.
Since 2001, we have positively affected millions of lives in over 600 project communities and without doubt, our success stories cannot be told without acknowledging the dedication of our staff and numerous volunteers. Today, the spotlight is on two (2) of our current drivers; Evans Amoafo Diawoo and Anthony Osei Owusu, whose efforts have been pivotal to our journey. The two drivers have cumulatively worked with HFFG for 17 years.
HFFG has eight (8) regional offices strategically located across Ghana. There is therefore a need for the organization's staff to commute from one location to another. So, whether it's the transporting of field officers and logistics from the headquarters in Accra to conduct field activities at Goaso in the Ahafo Region, hold pre-implementation meetings at Elembele in the Western Region, monitor and evaluate project implementation at Savelugu in the Northern Region or to convey visiting development partners to Koforidua in the Eastern Region, our reliable drivers are always up to the task.
Evans Diawoo
For Evans Diawuo, the Chief Driver, the joy of being part of HFFG's vision to have a nation where women, children and young people have equal opportunities to develop their full potential is what excites him to work with HFFG. As the Chief Driver, Evans plays a supervisory role at his unit, ensuring that all the vehicles of HFFG are maintained properly.
He believes that hard work and respect should be the hallmark of every individual working in the NGO sector.
"I joined HFFG in 2011, and I must say I am proud of how this organization continues to contribute to the development of people all over Ghana. I am always happy when I see changes in the lives of the women and children HFFG works with. It is fulfilling to serve humanity. I see every journey I make at HFFG as a service to my country," says Evans.
As the longest serving driver, Bra Evans, as he is affectionately called believes that with the needed support from stakeholders and partners, HFFG can make more impact in Ghana.
Evans is married with four (4) lovely children.
Anthony Osei Owusu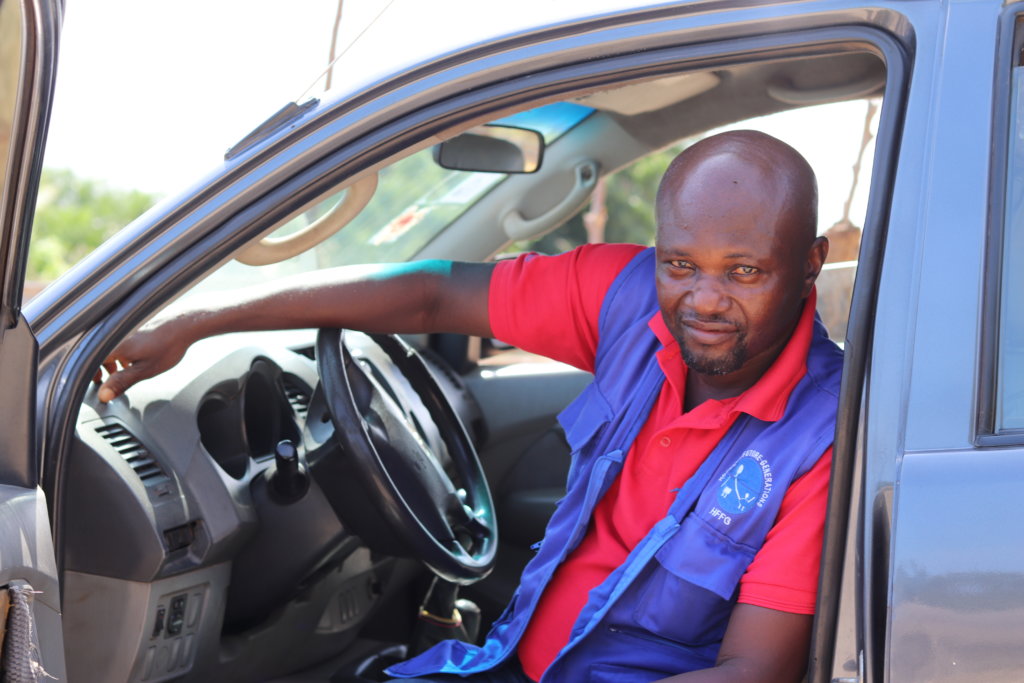 Anthony Osei Owusu joined HFFG in 2014 and has spent 7 years with HFFG. Before he joined HFFG, he was a driver at the La General Hospital. The father of four is the first point of call for in-city errands at HFFG.
"I like everything about Hope for Future Generations", he says with a warm smile on his face. .
Anthony relishes his trips from Accra to different parts of the country and the challenges he has faced as a driver.
Plying roads from Accra to different parts of Ghana, he has been exposed to many road dangers; all from which he has come out unscathed. He has reached communities that were extremely dangerous to access due to poor road networks. There are women, children and young people in such deprived communities who must be reached. Therefore, like an inexorable soldier who overcomes all obstacles, Anthony is committed to reach remote communities to ensure that HFFG's vision is realized.
As a trained motor rider, Anthony uses motorbikes for some of his tasks when the need arises.
"The drivers of HFFG are like the blood that runs through the body. Without blood, you are dead and immobile. And so they are extremely important to the organization", said Millicent Tawiah, Human Resource and Administrative Manager at HFFG.
She added: "These drivers have been with us before Bolt and Uber came. Had these drivers not been around, things would have been very difficult. Ayekoo! to our abled drivers. We acknowledge the role of drivers so much in the realization of HFFG's goals and we recognize that without them, it is almost impossible to achieve much."