After eighteen (18) months of championing advocacy to end malaria in Ghana and Africa, the Youth Leaders for Health (YL4H) programme, a joint initiative by RESULTS-UK, Hope for Future Generations, CISMAT-SL (Sierra Leone), Health Promotion Tanzania- HDT and WACI Health has marked its official close-out event to end the programme.  
The close-out event was held in Accra at the Coconut Grove Hotel on 24th March 2021. In attendance were the Executive Director of Hope for Future Generations, Mrs. Cecilia Senoo and the Deputy Director General of Ghana Health Service, Dr. Anthony Adofo-Ofosu.
The short ceremony highlighted the achievements of the youth leaders programme, the activities implemented as well as sharing of experiences and lessons learnt over the period.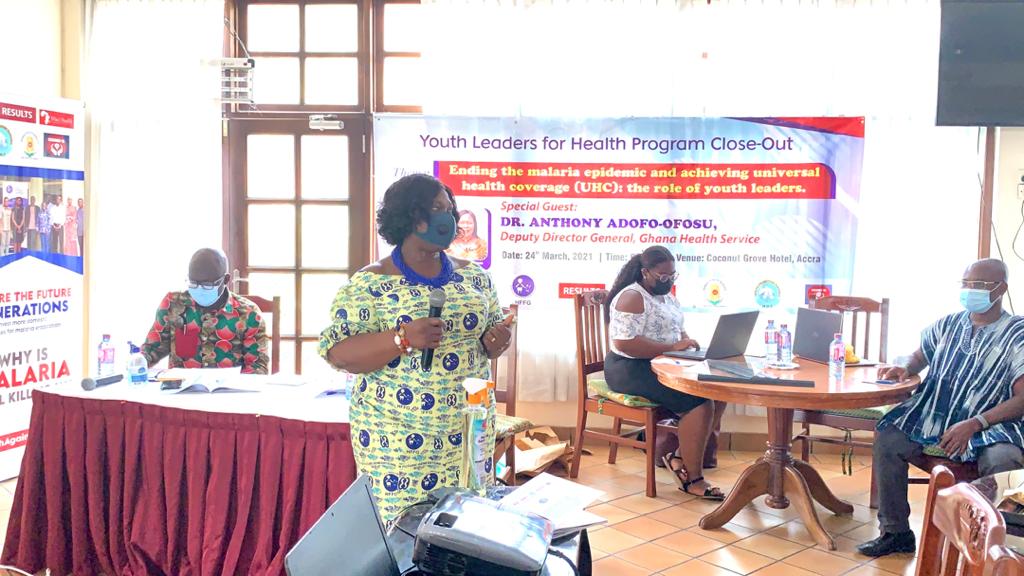 The Youth leaders seized the opportunity to also call on the Government of Ghana to increase its domestic funding and resources to end malaria.
Eleven Youth Leaders from Ghana were presented with citations for their participation in and contribution to the success of the Youth Leaders for Health programme in the country.
Also, solidarity messages were taken from Rosemary Mburu of WACI Health and Pushpanath Krishnamurthy from Results UK where they both urged the leaders to continue voicing out for change.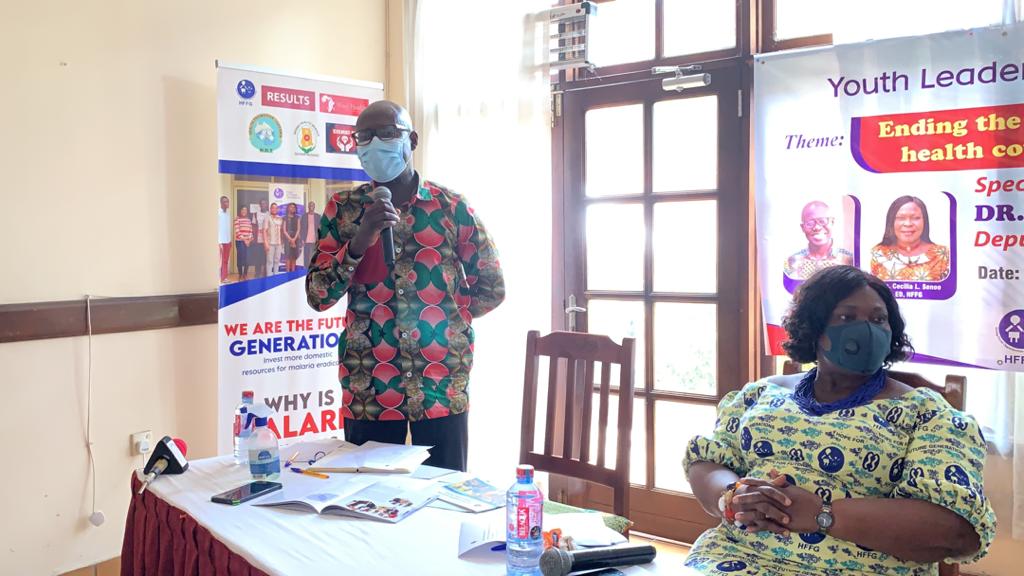 Speaking at the event, the Deputy Director General of Ghana Health Service, Dr. Anthony Adofo-Ofosu urged the Youth Leaders to take advantage of the networks built over the period of their advocacy to drive future partnerships in malaria programming. He encouraged all to not relent in their quest to impact lives positively but to continue the advocacy even as the project ends.
The Executive Director of Hope for Future Generations, Mrs. Senoo, congratulated the Youth Leaders for demonstrating great abilities in advocacy and leadership over the period. She entreated them to see the end as the beginning in order to maintain the momentum in the work. She presented the HFFG organisational cloth to all the Youth Leaders, which she explained is a gesture that they are part and welcomed into the organisation.
The Youth Leaders for Health Programme has achieved among others:
Capacity strengthening of youth leaders in an advocacy training workshop in Addis Ababa, Ethiopia to develop new skills in advocacy, malaria programming and health system strengthening.
Youth leaders' participation in the African Union Summit in Addis Ababa, Ethiopia and the Commonwealth Heads of Government Meeting in Kigali, Rwanda as well as other national, regional and global events.
Developing own campaign and running campaigning activities such as hosting events attended by politicians and decision-makers, petitions to national Governments and speaking to the media to increase support for eradicating malaria and universal health coverage, both locally and globally.
Linking with local decision makers such as parliamentarians and local government officials to advocate for change.
Impacting other young people with skills and knowledge and helping them become champions for better access to health.
Online advocacy and campaigns to end malaria.
To read more on the YL4H programme click here.
Compiled by:
Emmanuella Kwamee (HFFG)