Hope for Future Generations (HFFG) has secured a grant under the UNAIDS Solidarity Fund – Social Enterprise Development (SED) intervention which seeks to support young people in the development of social enterprises to help them recover from hardships they have experienced as a result of the COVID-19 pandemic.
The goal of the six-month initiative is to support the health and economic empowerment of young people and also improve their socioeconomic status. The project is being rolled-out in the initial pilot phase in five countries including Ghana, Uganda, India, Brazil and Madagascar.
HFFG is one of the three civil society organizations in Ghana that applied to UNAIDS and was successful in securing the grant.
Under this initiative, HFFG with support from UNAIDS-Ghana is helping seven (7) young beneficiaries to establish two social enterprises namely: Martin Greenhouse Vegetable Farm (MGF) and No Weapon Fashion Design (NWFD).
MGF will produce vegetables in sheltered structures which will provide adequate growing conditions. This technique will also protect the vegetables from pests and diseases as well as adverse weather conditions. Some of the vegetables to be farmed include cucumbers, green and red peppers, tomatoes, lettuce, carrots, and bell peppers.
Similarly, NWFD will provide services to key populations living in Tema and its surrounding areas. These services will include sewing apparels for different occasions, mainly for women and children and provide mentorships to apprentices in the community interested in fashion.
The long-term plan of NWFD is to set up a training school in fashion design for the beneficiaries in the area who would like alternative livelihoods.
Activities carried out so far: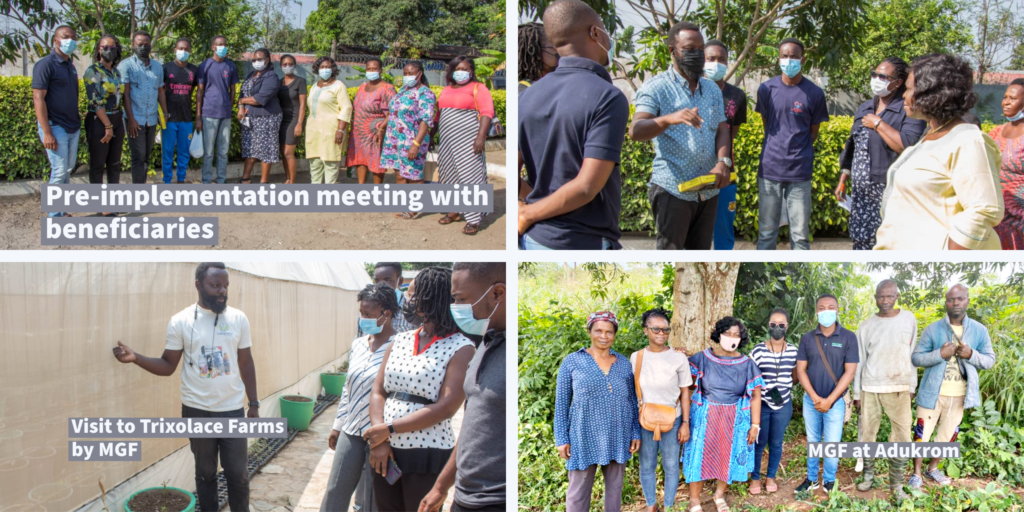 ● Mentorship sessions and capacity building is ongoing for the team members to equip them with more knowledge in the chosen venture.
● Under the MGF, the land for the farm has already been secured and cleared as well. There are two sites that the project is being undertaken currently. The first with the greenhouse is at Dzorwulu where it is being piloted and will eventually be moved to Adukrom in the Eastern region of Ghana on a larger scale.
● The processes for the building of the MGF greenhouse is underway and will be completed in few weeks to come.
● Preparations are also underway for the establishment of the fashion design house for the no Weapon Fashion Design enterprise to take off.